Our solutions are adapted to sustainable or fossil mobility.
We guide you in every step to safety..
Our innovation spirit to develop new safety applications makes us different.
We lead in developing control, detection and extinction systems, as well as immunity to false alarms for the automotive sector.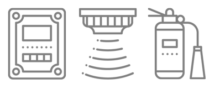 For every kind of vehicles
We have broad experience and specialization in the creation of Integral Fire Protection Systems.
In the automotive sector, we secure buses, trucks, coachbuilders…
We protect vehicles all over the world.
Our solutions are completely commutable and compatible. They offer control and functionality.
Many times, refurbishing one part of the implemented solution is key and enough to give a second life to your system.  
We train our clients in the solutions we implement.
360º Training
We train in every area, from design and definition, to reviewing and maintenance of the detectors.
Updated documentation
Extensive updated documents and many other resources always available.
Customer Area Access
In almost 40 years of  journey of eee, our systems have obtained many approvals and certificates.
Our solutions are designed and developed bearing in mind the following directives and regulations.